A 6-week journey into the deep and precious art of Listening.

There are two classes running at different times to accommodate the time zones

Registration is now open for the November 13th through to December 25th 2019 10 am ( PST)

Registration open for Sunday November 10th 6pm ( EST) through December 22nd 6pm ( EST)

We will begin a whole other level of understanding the Animal Kingdom and how Nature is made to be our Ultimate teacher.

Imagine a life where you experience each moment on this Earth Walk through a steady, clear and present lens.
Imagine the ability to connect to your nervous system and encourage it to quiet down into a stillness that allows for deep rest, deep insight, and a broader and expanded perspective of this life.
Imagine being able to hear the wisdom of your Heart Brain. How much richer would your life be if you allowed it to lead you?
Imagine communing with true emotional intelligence. What wisdom would you understand/hear from Nature and the Animals if your emotions did not rule you?
Imagine being able to quiet your mind enough to be able to hear the wisdom of Nature and the entirety of the Animal King/Queendom. What would your relationships with the animals in your life
look like if you trusted yourself impeccably?
What if they knew they could trust you impeccably?

This is an Animal Communication course however, due to the nature of what it takes to be a true listener, this is the ultimate journey into uncharted territory with exercises and practices that take you on a colorful and epiphany filled adventure. One of empowerment and inspiration.

Some of the areas we will be exploring include:

The Absolute power of communication and non-attached observation.
Connecting with pets, both past and present, and looking at the bigger picture: their purpose and role in your life.
Doubt. Practices to move you through this quagmire.
Sending and receiving information through our 7 basic senses. We will discover which of them you rely on the most and strengthening those you rely on the least.
Study filters and projections: how to clear our own filters as to not project our belief systems and conditioning onto the animals.
Discernment: learning to tell the difference between the voice in your head and the Animal's voice.
Understanding "Monkey Mind". we will practice slowing down, finding wholeness in our presence, and beginning to master the art of listening.
Imagination: through practice, we will learn why our imagination is freedom and how to trust it fully.
Emotional Intelligence: what it has to do with animal communication.
Meditation/Channeling: one recorded per week as guided by the animals. (Horses or other animals that may call us)
Animal symbolism: exploring both in dream time and waking time.
Nature/Animal Medicine cards: creating your own.
Assignment: observation and communication at your local animal shelters, zoos and/or aquarium.
This is an ACTIVATION and an INITIATION into living your life fully in the direction of your own personal highest potential. A life full of clarity and extraordinary relationships with ALL beings including yourself.


This course is a virtual experience where we will walk together, practice together, and share our learning in a safe and open space that I have created with the help of the Singing Horse Herd. (The herd of 11 magnificent undomesticated horses that I have the absolute honor and privilege to learn with and from.)
At the beginning of each week/session, you will be given practices, meditations and assignments.
( The meditations will be prerecorded as will some of the practices)

At the end of each week, we will meet in real time video live for 2 hours via Zoom (an easy to use video meeting platform.) One of the most powerful learning tools we have is each other through our debriefs together as a group.
( if you are in a different time zone making it difficult for you to get on-line at the same time, or you miss a session, these will be recorded and given upon request)

I will work with you one-on-one in real time via video live Zoom at the end of the 6 weeks to help you integrate this gift you have uncovered and strengthened.


In this 6-week intensive program, you and I and the whole of the Animal world will gracefully and beautifully delve into discovery,

My intention for you is:

for you to walk out with new tools and confidence in your ability to connect and communicate with ALL animals and Nature
to help you re-ignite the pathways of communication within your own body, leading you to a more healthy and wholesome version of your Self.
to inspire and empower you to trust yourself at a deeper level to follow your own guidance.
" I am only your Guide, Nature and her animals are the Masters."

*YOU DO NOT HAVE TO HAVE AN ANIMAL AT HOME FOR THIS EXPERIENCE


* None of this course would be possible without my own mentors and teachers. There is nothing in this
course that is mine and mine alone. The experiences I am sharing are ones that I have learned from those
that have come before me.

The extraordinary brilliant humans; the Horses, Dogs, Cats, wild and domestic; the Elephants, Orangutans, Whales, Sea Turtles, Condors and Alligators; and ALL the other Masters of Communication that I have been honored to have crossed paths with on this Earth Walk. I am forever
Grateful. I bow to them all deeply in appreciation and wonder. ~ G

Your Instructor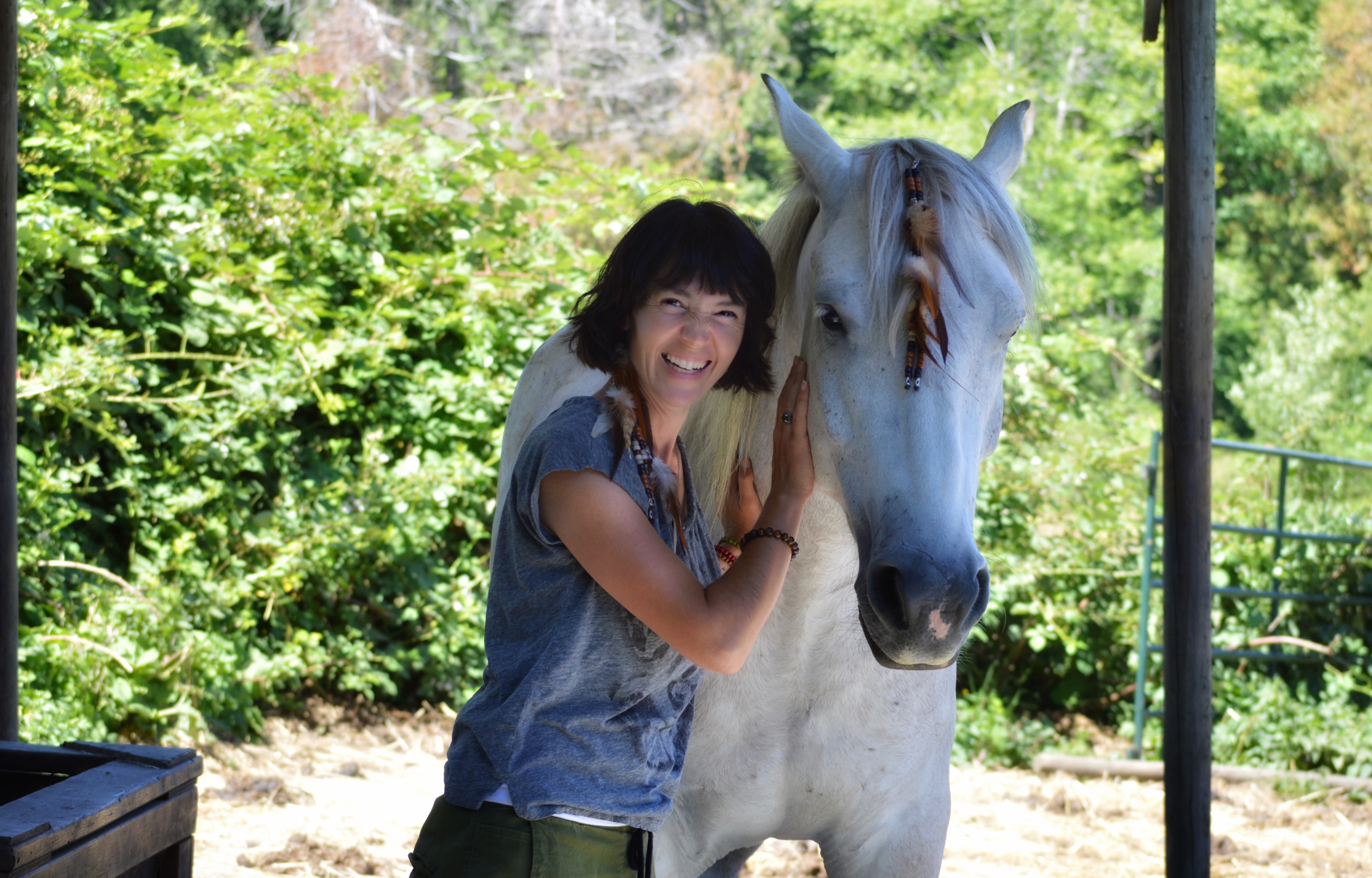 About Güliz Ünlü, Linking Awareness Facilitator and Equine Body Therapist:
Güliz Ünlü works with humans and animals in a range of wellness modalities. For most of her life she has been immersed in the layers and complexities of the Animal Kingdom. Through her work with both wild and domestic animals, she began to discover deep meaning in the purpose of the "pets" in our lives and the greater realm of animals that surround us daily. She was driven by discoveries in what they have to teach us about ourselves – about such things as compassion and forgiveness – and about their own purpose. She began to listen more intently to them to nurture this deeper connection.
Güliz uses BodyTalk*, Equine & Canine Bodywork, Inter-species translating and Linking Awareness and she has customized her skills to create a unique space of learning - guiding animals and their guardians into a balanced and sacred relationship through her private sessions, Equuarius re-wilding the Heart Meditation and Creative writing courses, and the Linking Awareness Journey. She creates a space where your epiphanies are realized through the eyes of your animals. A space of healing yourself and, as a result,healing the world around you.
Güliz has been fortunate to be able to study with internationally renowned and gifted mentors in the fields of Equine Chiropractic, Animal Communication, Structural Kinetics, Ferriery, Cowboys & Cowgirls, and talented Trainers. Her work has taken her throughout North and South America, The Middle East,and Asia. Güliz works with any and all living creatures and her work is met with equal success and results.
Course Curriculum
Week One : Zoom Call 2 hours
Available in days
days after you enroll
Week Two : Zoom call 2 hours
Available in days
days after you enroll
Week Three : Zoom call 2 hours
Available in days
days after you enroll
Frequently Asked Questions
When does the course start and finish
There are 2 course running at the same time to accommodate the different time zones. Sunday November 10th 6 pm EST ends December 22nd Wednesday November 13th 10 am PST ends December 25th ( I realize this is the Christmas season, we may postpone the last class a week)
What if I can't make it to the Zoom live meeting?
All of the meetings will be recorded. You will have access to the recordings.
What if I am unhappy with the course?
We would never want you to be unhappy! If you are unsatisfied with your purchase, contact us in the first 14 days and we will give you a full refund.
How can I get in touch with Güliz?
You can e-mail her directly
[email protected]
Or vist Equuarius.com and head over to her contact page.
Many on-line courses are much cheaper, why is this one priced at $727.00
Güliz has devoted the last 13 years and invested thousands of dollars to the study of Communication both within the physical body of the animals and people ( BodyTalk) as well as the study consciousness and the quantum field.( Linking Awareness) She has invested time and money into traveling the world to learn form a wide range of animals and brings the wisdom that they have shared with her to you. She lives and breathes this work and will arrive in and with her full presence as a guide, and teacher while you both dive into aspects of our human potential that we once only dreamed of. Through her, through the animals, and years of crafting her skills, her confidence, clearing filters, listening, and investing a lifetime of humbling, humility, and love she will empower you and remind you of your own extraordinary abilities to connect, listen and communicate through the pureness of your heart. On top of the weekly gathering, you will receive a one on one session and or phone conversion after each class. This alone is a value of $780 for the whole of the 6 weeks. These one on ones are vital in embodying the work and clearing patterns and blocks that keep you from a true communication.
Thank you for your interest.
We are the ones we have been waiting for and the animals have been waiting a long time to share their wisdom.It's our time to rise together.